Skyrim:The Caller
The UESPWiki – Your source for The Elder Scrolls since 1995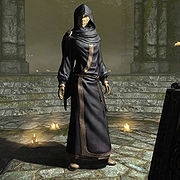 The Caller, an Altmer elemental mage, is the leader of a band of mages in Fellglow Keep. She will not outright attack you on sight. She wears blue mage robes and a pair of boots. After the conversation and you have chosen to fight her she will conjure two atronachs though if you thrall her she will not do this ever again, nor will she raise two zombies.
[edit]
Related Quests
Paralyzing The Caller immediately as you initiate combat (with a weapon that has a paralysis enchantment, must damage for the bug to occur) will cause her to teleport and appear with paralysis still in effect, and it will stay in effect. Weapons will not damage her, and allies in the area will not register her as being there. Using the weapon you used to paralyze, you can spam attacks onto her without damaging her, and this is a decent, if not exploitable, way of leveling up weapon skills. This was tested with melee weapons, not bows/arrows. When finished, either "talk" to her, or use a spell to damage her, and she will register to your allies, who will attempt to kill her. She will take damage from spells and possibly weapons with damaging enchantments only, or will teleport again, which starts the process over. She will never recover from her paralysis.
Casting Dead Thrall on The Caller, and later attacking her in an attempt to remove the follower, may cause her to teleport to an undetermined location. If this occurs, you may not be able to get rid of her as a Summoned Thrall (regardless if you have two other conjured followers), and as such people will always act as if you have an active zombie follower. ?
The Caller can survive melee finishing moves if she teleports when they are triggered, even decapitations (she will continue to fight and cast spells despite being headless) ?.