Skyrim:Chillrend
The UESPWiki – Your source for The Elder Scrolls since 1995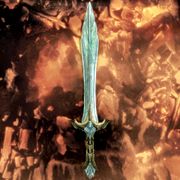 Chillrend is a unique glass sword found during The Pursuit in Mercer Frey's house in a display case with an expert-level lock. It deals frost damage as well as having a chance to paralyze anything it strikes. Tempering Chillrend requires one refined malachite and the Arcane Blacksmith perk, with the tempering being twice as effective if the player has gained the Glass Smithing perk. It would be identical to a glass sword were it not for its blue hue.
The level of the sword is determined the first time you enter Mercer Frey's house. If you were to enter at level 36 and wait until you are level 46 to pick up the sword you will get the level 36 version of the sword.
The level 46+ version of Chillrend is the only one-handed sword in the original version of the game with a base damage higher than a Daedric Sword. The Dragonbone Sword (DG) does the same base damage as the level 46+ version of Chillrend.
Chillrend also appeared in Oblivion with a similar enchantment as a reward for successfully completing the quest The Killing Field.
The frost damage effect on Chillrend is affected by the Augmented Frost perks in the Destruction perk tree and will raise to 37 with the first, and 45 with the second perk.
[edit]
Leveled Statistics
Level (ID)
Charge/Cost = Uses
Enchantment
1-10
(

000f8313

)
11
552
10
500/35=14
Target takes 5 points of frost damage:
11-18
(

000f8314

)
12
635
11
750/42=17
Target takes 10 points of frost damage:
19-26
(

000f8315

)
13
872
12
1000/49=20
Target takes 15 points of frost damage:
27-35
(

000f8316

)
14
846
13
1500/56=26
Target takes 20 points of frost damage:
36-45
(

000f8317

)
15
1111
14
2000/64=31
Target takes 25 points of frost damage:
46+
(

000f8318

)
16
1442
15
3000/72=41
Target takes 30 points of frost damage:
[edit]
See Also