Skyrim:Riftweald Manor
The UESPWiki – Your source for The Elder Scrolls since 1995
This article is being developed as part of the Skyrim Houses Redesign Project. If you see this tag it means the article can still be improved. Please see the project page for guidelines.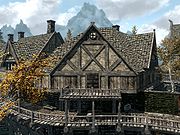 Riftweald Manor is a house in Riften owned by Mercer Frey.
You infiltrate this house when completing the Thieves Guild quest The Pursuit.
Riftweald Manor is a relatively well-secured property that was given as a gift to Mercer Frey by the Black-Briars after it was confiscated by them from its previous residents. It is immediately next to the Temple of Mara and the Hall of the Dead, conveniently near the Thieves Guild secret entrance.
Mercer commissioned the design and installation of a unique drop down ramp system at the rear of the house, probably designed for quick escapes. This escape provides you with a singular point of entry as the ramp can be lowered externally by firing an arrow at the operating mechanism which is under the balcony. This will lead to a door which can be opened with the key found on Vald, who is an easily dispatched guard hired by Mercer to guard the property from the back garden.
Inside are three leveled bandits and some random loot.
When inside the house, there is a Statue of Dibella on a shelf directly at the bottom of the staircase to the basement.
A secret passage is found behind a "suspicious cabinet" on the ground floor. Beyond this are several trap-filled passages before you reach a room containing the unique blade Chillrend, the quest item Mercer's Plans, and the Bust of the Gray Fox (for The Litany of Larceny Thieves Guild quest). The Bust is on the table next to the display case with Chillrend. It can be easy to miss at first because the coloration makes it blend with the wall a bit, but it is sitting alongside a bowl filled with several gems, including a diamond and a gold necklace.
[edit]
Related Quests
The 'mechanism' that is advised to be shot in the backyard is under the vertical ramp, hidden under the wooden floorboards. Shooting it with an arrow or spell will trigger the contraption, bringing down the ramp allowing access.
The Unrelenting Force Shout also can be used to trigger the mechanism.
The house will remain open to access after completing the quest. The bandits will respawn, along with the food, coin purses, and potions within.
There is a "Danger" shadowmark by the cellar entrance to The Ratway Vaults, and a "Guild" shadowmark by the front and back doors.
[edit]
Gallery