Skyrim:Crystaldrift Cave
The UESPWiki – Your source for The Elder Scrolls since 1995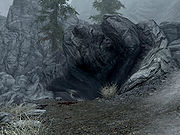 Crystaldrift Cave is a small cave that serves as the resting place for a follower of Kynareth.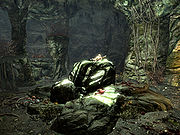 As you enter the cave, there will be a random grouping of animals which may attack each other first. Resting on top of a slab are the remains of a Bosmer adventurer named Gadnor. Lying next to him is his unique staff that helps explain the situation - Gadnor's Staff of Charming.
There is a chest in a nook on the western edge, a small iron ore vein near the pool on the eastern side, and a moonstone ore vein at the back of the southern wall. A copy of the Restoration skill book Mystery of Talara, v 2, a cooking pot, and a Shrine of Kynareth can be found around the camp. Mushrooms are found throughout the cave and Dragon's Tongue can be found around the slab. There's a corundum ore vein in the vicinity as well; just follow the path to the right of the entrance to find it.
[edit]
Related Quests