Skyrim:Isran
The UESPWiki – Your source for The Elder Scrolls since 1995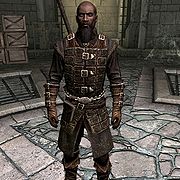 Isran is a Redguard blacksmith and leader of the Dawnguard. Before reforming the Dawnguard he was a Vigilant of Stendarr, but left the organization alongside his friend Celann due to him finding the organization to be too soft. He and Celann would go on to have a temporary falling out during the interim between their membership in the Dawnguard and their time as Vigilants of Stendarr due to Isran's harsh methods. Regardless of his reputation with his past allies, he would call on many of them to help him form the Dawnguard. In every instance that you recruit one of his old allies, they are very surprised to hear that he wants their help, implying that he was a bit of a lone wolf in his past and only requires allies because he realizes the odds are against him; dialogue with him further supports this. He also serves as a master trainer in Heavy Armor. He spends most of his time wandering around Fort Dawnguard. The only time he ever leaves the fort is when you assault Castle Volkihar. In combat he will usually use Dawnguard weapons, and will often cast Stendarr's Aura and Vampire's Bane, which are both made for killing undead, which is what he will mostly fight during Dawnguard's main questline.
Isran is clad in a set of Dawnguard equipment. This includes the cuirass as well as matching pairs of gauntlets and boots. He is equipped with a Dawnguard warhammer, and carries random leveled bandit loot, as well as a 25% chance of carrying 1-9 gold.
[edit]
Related Quests
[edit]
Main Dawnguard Quests
[edit]
Dawnguard Side Quests
[edit]
Vampire Side Quests
Isran will often say "Be on your guard at all times. Avoid sleep if you can... Sleep is for the weak." He may at times say this when you address him while he is in his bed.