Skyrim:Lord Harkon
The UESPWiki – Your source for The Elder Scrolls since 1995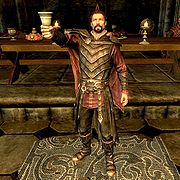 Lord Harkon is a Nord Vampire Lord added to the game in the Dawnguard official plug-in. He lives in Volkihar Keep off the coast of Haafingar. He plans to block out the sun using two Elder Scrolls, one of which is held by his daughter, Serana. The other is in the possession of his estranged wife Valerica.
Before becoming a vampire, Harkon was a very rich ruler of the lands, but feared mortality. He therefore made a pact with Molag Bal to become a vampire along with his family. This may imply that Harkon and his family are the first of the Volkihar vampires, as they were turned by the Daedric Prince himself. Harkon says that he sacrificed a thousand innocents in Molag Bal's name before being turned.
Harkon wears a set of vampire royal armor with a pair of vampire boots. He is equipped with a necklace of magic suppression, a ring of eminent destruction, and carries his own unique sword.
Depending on your choices in Dawnguard's main questline, Harkon is either your leader or the primary antagonist, although no matter which side you pick you will ultimately be forced to kill him. The only time you ever fight him is when he is in his Vampire Lord form, which has a unique appearance when compared to the Vampire Lord form you take.
[edit]
Related Quests