Skyrim:Forgotten Vale
The UESPWiki – Your source for The Elder Scrolls since 1995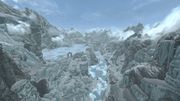 The Forgotten Vale is an isolated region of Skyrim once used by the Snow Elves to worship the God Auri-El.
It is now inhabited by the brutish, corrupted Falmer, and the indigenous Vale creatures: the Vale sabre cat, the Vale deer, and the Frost Giant. You will visit it during the course of the Dawnguard add-on's main questline, either as a Vampire Lord or as a member of the Dawnguard. The temple built by the Snow Elves in honor of Auri-El is found here. In front of the Inner Sanctum, there is a frozen lake with a word wall in the middle for the shout Drain Vitality, which is guarded by the twin dragons Voslaarum and Naaslaarum.
[edit]
Paragon Portal
To find the Paragon Portal, go to the Wayshrine of Resolution and turn east. Make your way down the nearby cliff and cross the river, or use the bridge to the north. Once you're across, head east up the narrow trail between the rocks. As you start to come down the hill, you will see a large waterfall off to your left. Directly below and in front of you, across the river, you will see the frost giant who holds the Sapphire Paragon under an ice overhang. Across the river from this frost giant is the ruin with the paragon socket.
The portal uses the five different paragons to open a portal to their respective area. The paragons can be obtained from various Frost Giants, as noted on the map below.
The Amethyst Paragon opens a portal to Darkfall Grotto.
The Diamond Paragon opens a portal to Glacial Crevice.
The Emerald Paragon opens a portal to Forgotten Vale Overlook.
The Ruby Paragon opens a portal to Forgotten Vale Forest.
The Sapphire Paragon opens a portal to Inner Sanctum.
[edit]
Related Quests
Auriel's Shield can be obtained by taking the Ruby Paragon, located in the temple of Auriel, and placing it in the paragon socket (east of the Wayshrine of Resolution). The portal will lead you to Forgotten Vale Forest. The shield is used by a Falmer Warmonger who will be fighting frost trolls when you arrive.
There are two unlocked chests submerged in the frozen lake: one just below the falls at the south end of the lake, and another resting on a skeleton north-northeast of the falls.
The yellow pogs (

) mark locations, the red pogs (

) mark items and Frost Giants, and the green pogs (

) mark miscellaneous points of interest, such as ore veins and chests. Mouse over the pogs to read additional information.
[edit]
Gallery