Skyrim:Darkfall Passage
The UESPWiki – Your source for The Elder Scrolls since 1995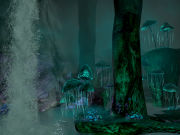 Darkfall Passage is a small cavern accessible through Darkfall Cave which leads to the Forgotten Vale.
[edit]
Related Quests
34 gleamblossom plants can be found here.
12 poison blossom plants can be found here.
Two notes can be found here, by someone who previously tried to make their way through the cave:

Darkfall Passage Note I — when entering from Darkfall Cave, you will soon come to a small cave area with water pools on the floor; one of the pools connects to an isolated area with a skeleton with the note in its inventory.
Darkfall Passage Note II — on a skeleton next to two pull ropes that open the way to a large cavern.

Poison blossom plants and Vale sabre cats won't respawn.