Skyrim:Darkfall Grotto
The UESPWiki – Your source for The Elder Scrolls since 1995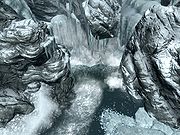 Darkfall Grotto is a small cave found in the Forgotten Vale that is dominated by a roaring underground river.
This cave can be accessed by following the frozen river south, past the Wayshrine of Learning, and jumping down the waterfall at the end. You will enter the dungeon by falling a very great height (at least 10 stories) and landing in the river below. Quickly surface and swim to shore, or else you'll be swept away by the incredibly powerful current.
The small amount of land that can be explored is a large U-shape that curves behind the falls. The western shores are empty save for a large glowing mushroom, but on the eastern shore you will find a small Falmer settlement that has been raided and taken over by Feral Falmer. This settlement is otherwise empty, though. On the southern end of the U, behind the falls, you will find two Falmer houses, with a slaughtered Falmer in front of each of them. Both houses contain chests with minor loot.
When you fall in, Serana will say: "Ugh, I told you! Next time I say to please not go over a waterfall, maybe you'll listen to me."
The only way out is to jump into the river and let it sweep you away. At the end, you'll fall down another large waterfall, and you'll land in the middle of Darkfall Passage.
Be careful when you're trying to jump down the waterfall. If you aren't careful, you can smash against the rock wall behind the falls and die.
Watch out for the river - your follower can fall in and be swept away, into Darkfall Passage.