Skyrim:Sorine Jurard
The UESPWiki – Your source for The Elder Scrolls since 1995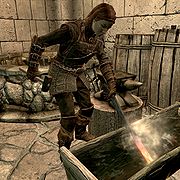 Sorine Jurard is a Breton thief added by the Dawnguard plug-in. She initially wears a set of leather armor with a matching pair of boots. She is equipped with a leveled one-handed weapon, and carries random leveled bandit loot, as well as a 25% chance of carrying 1-9 gold.
Once recruited into the Dawnguard, she dons a set of Dawnguard equipment. She will sell general merchandise and send you on quests to learn the art of crafting crossbows and bolts. She is also a master trainer in Archery.
[edit]
Related Quests
Training Archery with Sorine and selling items to her in the merchant's menu appears to result in "selling" items without receiving gold at some point, while she still has large amounts of gold. ?
Her store may not update with the new Dwarven items after you do the Ancient Technology quests. She may only gain new steel bolts in her store. ?
Sometimes after finishing Ancient Technology, she will not give you any more quests. ?

One fix is to reload a previous save before you took the quest.