Skyrim:Mor Khazgur
The UESPWiki – Your source for The Elder Scrolls since 1995
Respawn Time
10 days
Level
Min: 6
Occupants
Orcs
Console Location Code(s)
MorKhazgurExterior, MorKhazgurExterior02, MorKhazgurExterior03, MorKhazgurExterior04, MorKhazgurLaraksLonghouse, MorKhazgurCellar
Region
The Reach
Location
Northern end of the Reach, near the border with Haafingar
Special Features
# of Alchemy Labs
1
# of Forges/Anvils
1
# of Grindstones
1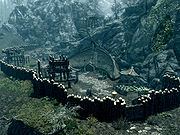 Mor Khazgur is an Orc stronghold located west of Solitude and north of Markarth.
It has a mine with seven orichalcum ore veins. Notable NPCs found here include Chief Larak, a master trainer in the Block skill, and Borgakh the Steel Heart, a potential follower.
[edit]
Related Quests
[edit]
Residents
[edit]
Exterior
A copy of the Smithing skill book The Armorer's Challenge is found here, on a shelf behind the forge.
There is a locked cellar door behind the longhouse, inside is minor loot and a locked jail cell with several leveled potions.
Like all other Orc Strongholds, normal entrance into this stronghold requires that the player be Blood-Kin to the Orcs.
You can gain access to the stronghold by climbing the mountain and coming down the backside, but you will still be challenged as you approach the gate, and offered the quest opportunity.