Skyrim:Dark Brotherhood Sanctuary
The UESPWiki – Your source for The Elder Scrolls since 1995
This article is being developed as part of the Skyrim Houses Redesign Project. If you see this tag it means the article can still be improved. Please see the project page for guidelines.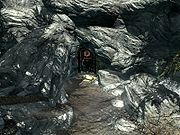 The Dark Brotherhood Sanctuary is one of two Dark Brotherhood sanctuaries located within Skyrim. The door is located under the road, just west of Falkreath.
In the first room you go through there is a map of Skyrim, along with full sets of Shrouded Armor and Shrouded Robes (in addition to the ones you may receive from Astrid upon joining the Brotherhood), and the Alteration skill book Sithis. A door on the left leads to Astrid's room, containing an Unusual Gem. Further down, the passage opens up into a large space with a pool of water, a grindstone, a workbench, and various alchemical ingredients located throughout. This is where most of the Brotherhood members reside during the day. There are two staircases with a Word Wall in between; the wall provides one of the words for the Marked for Death Dragon Shout.
Going up the left staircase, there is an Arcane Enchanter and an Alchemy Lab, along with Lis, a non-hostile Frostbite Spider. This is where the 300 year old vampire (and only trader within the Sanctuary) Babette is usually found. There are multiple ingredients located within containers and around the room here.
Going further into the Sanctuary, it opens up into a dining room. This is where Nazir usually resides. Up the staircase are the living quarters for most of the Brotherhood's members. Further into the Sanctuary are various rooms containing mostly clutter. The room with the stone bed has the Sneak skill book Sacred Witness.
There is another passage in the southeast corner of the large room, leading up to a room where the Night Mother will be located after your first real contract, and where Cicero will be found during the day. He also has a room in the very back of the Sanctuary.
[edit]
NPCs Living Here
[edit]
Related Quests
A copy of The Five Tenets is displayed (although covered in dirt and almost unreadable) on a wall at the end of the corridor on top of the stairs to the right of the Word Wall; a second copy is displayed on a wall in the dining area.
The bones of Gaston Bellefort can be found in the Spider's lair.
In the bedroom at the entrance there is a secret room behind the wardrobe. It has items needed for a Black Sacrament and the Blade of Woe. After Astrid betrays the Dark Brotherhood and the Sanctuary is raided, the wardrobe is pushed aside and she can be found lying there performing the Black Sacrament.
After the Sanctuary is destroyed, entering it may cause the game to freeze.
[edit]
Gallery