Skyrim:Pelagia Farm
The UESPWiki – Your source for The Elder Scrolls since 1995
This article is being developed as part of the Skyrim Houses Redesign Project. If you see this tag it means the article can still be improved. Please see the project page for guidelines.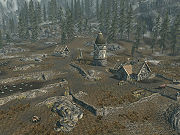 Pelagia Farm is a farm south of Whiterun owned by Severio Pelagia. It is maintained by Nimriel and Gloth, who live at the farm, while Severio lives in his house in Whiterun.
When approaching Pelagia Farm for the first time, the player will come across Aela the Huntress, Farkas and Ria battling a giant. The group of Companions will always win the fight.
Cabbage and potatoes can be harvested at the farm and sold to Severio through conversation options.
[edit]
NPCs Living Here
[edit]
Related Quests
Though you can find and activate a grain mill here, it will only lead to an animation, with no actual function in the game.