Skyrim:Narzulbur
The UESPWiki – Your source for The Elder Scrolls since 1995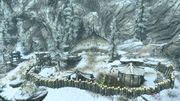 Narzulbur is an Orc stronghold of the Eastmarch hold.
Found southeast of Windhelm, its walls also hold the Gloombound Mine. Inside you'll find a tribe led by a sentimental chief with no wives. The mine also has one of the largest deposits of ebony ore in Skyrim.
[edit]
Exterior
| Crops | Plants | Animals |
| --- | --- | --- |
| | | 2 Goat |
[edit]
Related Quests
Like most other Orc Chieftains, Mauhulakh will challenge you to a brawl if you ask him about work. Accepting and winning will increase the stronghold's disposition toward you enough to allow you to take (instead of steal) the lower valued items around the camp.
Dushnamub, the local blacksmith will buy any ebony ore you bring him at full price.
North-northwest of the stronghold is a small hunters' camp occupied by two hunters. Their lean-to holds a copy of the Light Armor skill book Ice and Chitin.
For those wondering why the relationship between the Chief and his Aunts is so detailed, there is a quest entry for a "NarzulburFreeformWifeQuest." However it does not appear to have been implemented.
[edit]
Notable Loot