Skyrim:Abandoned Shack
The UESPWiki – Your source for The Elder Scrolls since 1995
This article is being developed as part of the Skyrim Houses Redesign Project. If you see this tag it means the article can still be improved. Please see the project page for guidelines.
# of Zones
1
Respawn Time
10 days
Occupants
NPCs
Console Location Code(s)
AbandonedShackInterior
Region
Hjaalmarch
Location
East-southeast of Solitude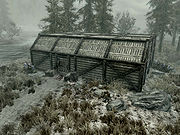 The Abandoned Shack is an isolated house in Hjaalmarch, east of Solitude.
This is where you will awaken during With Friends Like These... after completing Innocence Lost and receiving the mysterious note. This is also where you can instead begin Destroy the Dark Brotherhood! by killing Astrid. The shack cannot be accessed before this point, as the door is locked and requires a key; however, it remains unlocked after you leave it.
When you are first brought to the shack, Astrid will be sitting on top of a set of shelves in one corner, with the three possible victims (Fultheim the Fearless, Alea Quintus, and Vasha) kneeling along the opposite wall with their hands bound and their faces covered by sacks. After you kill one of the victims (or Astrid) the shack will remain uninhabited, aside from the corpses of anyone you killed.
[edit]
Related Quests
Southeast of the shack is a hilltop with seven stone pillars, marking the ruins of some forgotten structure. Scattered about the ruins are a burial urn, a novice-locked chest, and the body of a draugr containing a copy of the Sneak skill book Sacred Witness.
The bed inside the shack is unowned, making it a useful place for players (especially vampires) to sleep.
Like many places, any items in the shack will disappear every 10 days.
(DG) Installing Dawnguard causes a bad navmesh inside the Abandoned Shack, which disconnects the door.