Skyrim:Gloombound Mine
The UESPWiki – Your source for The Elder Scrolls since 1995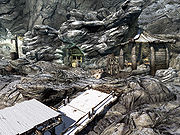 Gloombound Mine is a large ebony ore mine southeast of Windhelm, also containing iron ore.
Located southeast of Windhelm, the mine borders a small mountain range and a small Orc stronghold named Narzulbur. All races are able to enter the mine, even if you haven't become Orc Blood-Kin yet, but in this case they will berate you and tell you that you shouldn't be there. Dushnamub will buy ebony ore from you.
Complete blacksmith facilities (smelter, forge, grindstone, and workbench) are located outside the mine. Also, a shack near the entrance has a copy of the Smithing skill book Heavy Armor Forging.
[edit]
Related Quests
Gloombound Mine is the best source of ebony in Skyrim. It contains:
16 ebony ore veins. In many cases, several small ore veins are clustered together, so you may need to examine each cluster closely to find all of them.
7 already-mined ebony ore samples inside the mine. All of this ore is owned (taking them is considered stealing).
6 already-mined ebony ore samples (5 owned) outside the mine. They are found in the cart by the mine entrance and at the table by the forge.
3 already-mined ebony ore samples (2 owned) in adjacent Narzulbur.
1 ebony ingot (owned) outside the mine on the workbench.
Therefore, on a single trip to the mine it is possible to obtain the equivalent of 33 ebony ingots (less if you are not willing/able to steal).
There is also an orichalcum ore vein above the entrance to the mine outside, at the very top of the path.
Be careful about holding a torch in some parts of the mine, as there is flammable gas present.
There is a somewhat hard to see chest under the bed near where the Smithing skill book can be found.
On the highest level of the mine, a loose segment of floor can be found that will crumble when stepped on, sometimes an Orc will be the one to step on it and will fall to their death. This will take you back to the entrance of the mine.