Skyrim:Gabriella
The UESPWiki – Your source for The Elder Scrolls since 1995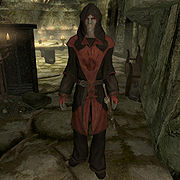 Gabriella is a Dunmer assassin who works for and lives in the Dark Brotherhood Sanctuary.
When asked about herself, she replies, "What a curious question. Well, I enjoy moonlit nights, taking long walks on the beach, knitting and unicorns. In fact, I once took a seaside stroll, on a moonlit night, and discovered a unicorn... which I proceeded to stab in the throat with a crochet needle. I'm a woman of refined, yet simple tastes."
She welcomes the arrival of Cicero and the Night Mother, saying that the Night Mother deserves the Brotherhood's "unwavering support and respect", but that she finds Cicero too "exuberant" for her liking.
She does not survive the attack on the Sanctuary in the Death Incarnate quest. Gabriella wears Shrouded Robes, Shrouded Hand Wraps, Shrouded Shoes, and a Shrouded Hood.
[edit]
Related Quests
In a discussion with Festus Krex, she claims that she already knows how she's going to die.
During Death Incarnate, her corpse is found in the room with the arcane enchanter and the alchemy lab.