Skyrim:Gunmar
The UESPWiki – Your source for The Elder Scrolls since 1995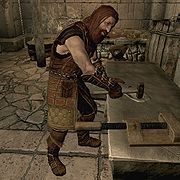 Gunmar is a Nord blacksmith added by the Dawnguard plug-in. He initially wears a set of scaled horn armor with matching pairs of bracers and boots. He is equipped with a leveled one-handed weapon, and carries random leveled bandit loot, as well as a 25% chance of carrying 1-9 gold.
Once recruited into the Dawnguard, he dons a set of Dawnguard equipment. You will be able to hire armored trolls from him for 500 gold each. He is a master trainer in Smithing, and will sell you a wide variety of armor and weapons, including Dawnguard equipment.
Gunmar will be the source of most of your Dawnguard radiant quests, as Sorine Jurard's radiant quests can only be performed once, and the probability of receiving quests from Isran and Florentius Baenius is always lower than the probability of receiving quests from Gunmar.
[edit]
Related Quests
If you listen to the interactions between members of the Dawnguard at Fort Dawnguard, you will hear a lot of discussion about Gunmar and his armored trolls.