Skyrim:Florentius Baenius
The UESPWiki – Your source for The Elder Scrolls since 1995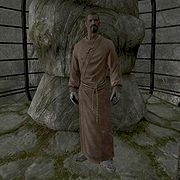 Florentius Baenius is an Imperial priest added by the Dawnguard plug-in, recruited into the Dawnguard by the player. He is a master trainer in Restoration, and will sell you a wide variety of Alchemy-related items. He also sells the spells Stendarr's Aura and Vampire's Bane.
Florentius believes himself to be a direct channel of Arkay which leads to some interesting and humorous dialogue. This is a frequent topic of conversation for Dawnguard members Gunmar and Sorine Jurard. It is also the source of some previous friction in his relationship with the Dawnguard leader, Isran.
Initially, Florentius wears monk robes, a pair of steel plate boots, a pair of steel plate gauntlets, and an amulet of Stendarr. Later, he dons a set of Dawnguard equipment, including Dawnguard heavy armor (gray version) with Dawnguard boots and Dawnguard gauntlets. He is equipped with a leveled one-handed weapon, and carries random leveled bandit loot, as well as a 25% chance of carrying 1-9 gold.
[edit]
Related Quests