Skyrim:East Empire Company Warehouse
The UESPWiki – Your source for The Elder Scrolls since 1995
This article is being developed as part of the Skyrim Houses Redesign Project. If you see this tag it means the article can still be improved. Please see the project page for guidelines.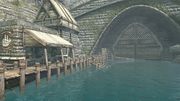 The East Empire Company Warehouse is a warehouse on the Solitude docks immediately southeast of the city.
The building is the warehouse for the East Empire Company, whose headquarters are in Windhelm. It is locked with a leveled lock and you will be considered to be trespassing if you enter, additionally there is a Solitude guard patrolling just outside the entrance. Normally the warehouse is looked after by Dockworkers, the Dockmaster, and Snorreid.
Strangely there is a goat running loose in the warehouse. There is no apparent reason for this, and none of the workers or wardens seem worried. At the far side of the docks there is an entrance to Brinewater Grotto, which has a second hidden entrance near Solitude's Lighthouse. There is a large amount of food, clothing, potions, and armor in the warehouse. There is also a large amount of rare books in the warehouse including two skill books, the Smithing skill book Heavy Armor Forging and the Speech skill book The Buying Game. The two skill books only appear once Scoundrel's Folly has begun. The Dockmaster's cabin, high up to the right and rear of the warehouse, contains a large amount of gold, a leveled ring and dagger, and the East Empire Shipping Map which can be sold to Delvin Mallory for the quest The Litany of Larceny.
Snorreid has little purpose in life, he spends his time in a small area, high up to the left inside the warehouse, either eating or sleeping. When the quest Scoundrel's Folly is started the Dockworkers are replaced by Wardens, who are hostile to all trespassers.
[edit]
Related Quests
The Warehouse's stocks respawn quite often and will prove useful to anyone in need of lutes, drums, flutes, minor potions, troll fat, giant's toes, food and drink, iron weaponry, and general clutter.
There is a "Danger" shadowmark to the right of the entrance door. This is due to the quest Scoundrel's Folly when the workers are replaced by hostile wardens.
This is the only location in the game where you can find a set of noble clothes without stealing or killing.