Skyrim:Fianna
The UESPWiki – Your source for The Elder Scrolls since 1995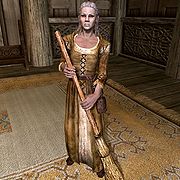 Fianna is a Breton who works as a maid in Dragonsreach. She spends most of her day cleaning the entrance to the hall of Dragonsreach.
Fianna wears a belted tunic along with a pair of boots. She also wields an iron dagger.
Fianna takes her job very seriously and even if you become a thane she will remark, "Ain't nobody here high and mighty exceptin' the Jarl and don't you forget it!" She will also make sure to tell you: "Don't you go trackin' your dirty boots on my clean floor!" She will also point out her disliking of the increased number of soldiers: "Soldiers! They're everywhere these days. And not a one of them knows how to pick up after themselves."