Skyrim:Balgruuf the Greater
The UESPWiki – Your source for The Elder Scrolls since 1995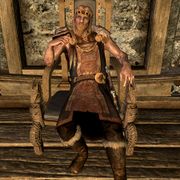 Balgruuf the Greater is the Jarl of Whiterun in 4E 201, and a direct descendant of King Olaf One-Eye. An admirer of the Greybeards, Balgruuf had journeyed to High Hrothgar in his youth, though his attempts to learn the use of the thu'um did not succeed. He has carried on a rivalry with Ulfric Stormcloak since they both were young. He had multiple children, including Frothar, Dagny, and the youngest Nelkir. While considered to be an honorable warrior who puts his heart and soul into his service, he is also not considered a patient man. Following the White-Gold Concordat, which Balgruuf had no influence in negotiating, he was purportedly given chests of gold and told to accept the terms. However, he continued worshipping Talos privately. For more information, see the lore article.
Balgruuf is one of the first to discover the Dragonborn and point him or her to High Hrothgar. During the Skyrim civil war, the warring factions of the Stormcloaks and the Legion seek to gain Balgruuf as an ally, as Whiterun is prosperous, influential, and strategically located. While Balgruuf claims to be neutral, it is revealed he is more sympathetic towards the Empire than to Ulfric Stormcloak. If the player completes the Stormcloak quest, Battle for Whiterun, Balgruuf will be replaced with the new Jarl Vignar Gray-Mane. Balgruuf will move his family and companions from his home in Dragonsreach to the basement of the Blue Palace in Solitude.
While the Jarl is on his throne in Whiterun, he may not be killed. However, attempting to do so will incur a normal 1000 bounty.
[edit]
Related Quests