Skyrim:Paarthurnax (dragon)
The UESPWiki – Your source for The Elder Scrolls since 1995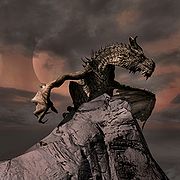 Paarthurnax is a meditative dragon residing on the Throat of the World, skywards of High Hrothgar.
From here, he serves as the leader of the Greybeards, who are fiercely protective of him. It was Paarthurnax who taught the first Tongues, Gormlaith Golden-Hilt, Hakon One-Eye and Felldir the Old, to turn the tide in the Dragon War. Through extreme effort and meditation, he was able to overcome his draconic instincts by practicing a philosophy invented by Jurgen Windcaller known as the Way of the Voice.
Few but the Greybeards trust him, partly because of his race, but mostly because of his past. Especially distrustful of the dragon are the Blades, Delphine and Esbern, who wish him dead. Despite this, Paarthurnax, who thinks of himself as being only what "father Akatosh" made him to be, willingly shares his knowledge with Dovahkiin, and remains hospitable even in the face of death.
His name can be separated into three words in the dragon language: Paar Thur Nax, meaning "Ambition Overlord Cruelty".
[edit]
Meditation
Upon speaking to Paarthurnax, the player can indicate they wish to meditate on a word of power. The effect applies until you choose another. This does not conflict with the Standing Stones.
His dialogue relating to meditation is as follows:
Player: I wish to meditate on a Word of Power.
Which calls to you, Dovahkiin? Fus, Feim, or Yol?
Fus.

It is called "Force" in your tongue. But as you push the world, so does the world push back. Think of the way force may be applied effortlessly. Imagine but a whisper pushing aside all in its path. That is "Fus." Let its meaning fill you.

Su'um ahrk morah.

You will push the world harder than it pushes back.

Feim.

"Fade" in your tongue. Mortals have greater affinity for this Word than the dov. Everything mortal fades away in time, but the spirit remains. Ponder the meaning of spirit.

Unslaad zii.

Where mortal flesh may wither and die, the spirit endures. That is "Feim." Let that meaning fill you.

Su'um ahrk morah.

You will find that your spirit will give you more strength.

Yol

In your tongue, the Word simply means "Fire." It is change given form. Power at its most primal. That is the true meaning of "Yol."

Suleyk.

Power. You have it, as do all dov. But power is inert without action and choice. Think of this as the fire builds in your su'um, in your breath.

Su'um ahrk morah.

What will you burn? What will you spare?
[edit]
Dialogue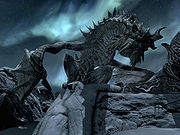 Greetings:

Drem Yol Lok.

Greetings.
Speak. I will listen.
Exiting
Dialogue:

Su'um ahrk morah.

Lok, Thu'um.
Player: The Blades say you deserve to die.
The Blades are wise not to trust me.

Onikaan ni ov

. I would not trust another

dovah

.
Why shouldn't they trust you?

Dov wahlaan fah rel

. We were made to dominate. The will to power is in our blood. You feel it in yourself, do you not? I can be trusted. I know this. But they do not.

Onikaan ni ov dovah

. It is always wise to mistrust a dovah. I have overcome my nature only through meditation and long study of the Way of the Voice. No day goes by where I am not tempted to return to my inborn nature.

Zin krif horvut se suleyk.

What is better - to be born good, or to overcome your evil nature through great effort?
[edit]
Related Quests
Paarthurnax is voiced by Charles Martinet, who is best known in the video game industry as being the voice of Mario.
Sissel, a young girl from Rorikstead will tell you that she had a dream about a "good dragon" who was "old and gray" but "wasn't scary". It is likely that this was a vision of Paarthurnax.