Skyrim:Proventus Avenicci
The UESPWiki – Your source for The Elder Scrolls since 1995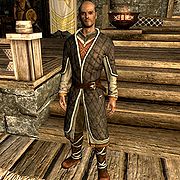 Proventus Avenicci is the Imperial steward to Jarl Balgruuf of Whiterun. He is also the father of Adrianne Avenicci, from whom he allegedly takes advice. He can be found in Dragonsreach and, when he is not with the Jarl, will usually be found sitting down at a table at the back part of the Great Porch, or eating in the large tables in the main part of Dragonsreach. He will sell you a house called Breezehome in the city for 5000 gold. He will also sell upgrades to the house, but will only do so if he is inside Dragonsreach. The dialogue option to purchase housing upgrades will not be available if he is on the Great Porch or in the Dragonsreach Jarl's Quarters.
If the Stormcloaks take over Whiterun, he will move to Solitude. There he can be found in the basement of the Blue Palace, but he will not sell further upgrades for Breezehome. Otherwise, the Breezehome key can be purchased from Brill for 5000 gold. He can be found in the Great Porch area of Dragonsreach.
Proventus wears a set of fine clothes along with a matching pair of boots. He wields an iron dagger and carries a belted tunic along with a selection of upper-class loot and gold.
[edit]
Related Quests