Skyrim:Fort Greymoor
The UESPWiki – Your source for The Elder Scrolls since 1995
# of Zones
2
Clearable
No
Respawn Time
10 days
Level
Min: 6
Console Location Code(s)
FortGreymoorExterior01, FortGreymoorExterior02, FortGreymoorExterior03, FortGreymoorExterior04, FortGreymoorExterior05, FortGreymoorExteriorEdge, FortGreymoor01, FortGreymoor02
Region
Whiterun Hold
Location
West of Whiterun
Special Features
# of Cooking Pots/Spits
1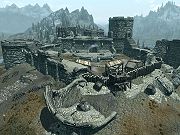 Fort Greymoor is a medium-sized fort west of the Western Watchtower near Whiterun. It is, at first, occupied by hostile bandits, but will be taken over by whoever wins the civil war, or it may be taken by the faction holding Whiterun if it is cleared of bandits.
The fort has an exterior courtyard and two interior zones: Fort Greymoor and Fort Greymoor Prison.
[edit]
Related Quests
[edit]
Walkthrough
[edit]
Exterior
The fort is crumbling and part of the missing sections of wall have been replaced by log fences. The courtyard has two doors on ground level. The double doors opposite of the main gate lead to Fort Greymoor (interior) while the door to the left of the main gate leads to Fort Greymoor Prison. There are also a few entrances on top of the walls which lead into Fort Greymoor. An alternate way to access the fort is to use the sewer pipe on the northwest side of the fort outside the walls. Imperial soldiers will be garrisoned there if you do the Dark Brotherhood contract to kill Agnis.
Above the main entrance is a cage suspended from a beam with a dead bandit inside. Once inside the fort, one can walk up the stairs to the parapet directly above the cage and, if careful, can walk across the wooden beam to the end. If facing the cage while falling off the beam, you can access the bandit's inventory for typical bandit loot and some random treasure.
You can also stand directly under the bandit cage, look up, and then jump. At the top of the jump, you can search the bandit. You will hang there, while the bandit's inventory is open, and land when closed.
[edit] Zone 1: Fort Greymoor
This zone contains what appears to be the fort commander's quarters, a kitchen which has a cooking pot, and a basement for storage. The basement has a sewer pipe that acts as a door to outside the fort, along with a few traps.
Occupants:
Treasure:
Doors and Gates:
There are four doors in/out of this zone
Note: If you have joined the Imperial Legion, the Imperial soldiers will not be hostile toward you.
[edit] Zone 2: Fort Greymoor Prison
The Prison has a bear trap right in front of the main door after entering. It is a small zone with a basement where many prison cells can be found, along with a "cage" on the wall with a level-dependent lock.
Doors and Gates:
There are three doors in/out of this zone
Some game data identifies the fort as Fort Blackmoor, Blackmoor being the name of a village said to be located in the area in Elder Scrolls lore.
Sometimes after fully clearing out the fort, the unnamed bandits will still respawn instead of Imperial soldiers.