Skyrim:Temple of Kynareth
The UESPWiki – Your source for The Elder Scrolls since 1995
This article is being developed as part of the Skyrim Houses Redesign Project. If you see this tag it means the article can still be improved. Please see the project page for guidelines.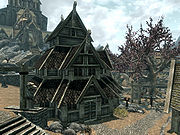 Temple of Kynareth is a small temple in Whiterun devoted to the goddess Kynareth.
Danica Pure-Spring and Acolyte Jenssen are tending the wounded in the main room. Danica explains that the war between the Imperials and Stormcloaks is overwhelming her with wounded, so she has been neglecting her priestess duties in order to heal them. Apparently one of her duties was to tend the Gildergreen (the large tree outside). When asked about the tree, she offers the quest The Blessings of Nature.
Activating the Shrine of Kynareth cures all diseases, bestows the Blessing of Kynareth for 8 hours, and removes any other shrine blessing.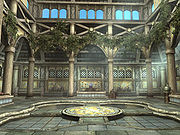 [edit]
NPCs Living Here
[edit]
Related Quests
A copy of the Restoration skill book Withershins can be found in the northeast room on the bookshelf.
There are many healing potions around, but they must be stolen.
Several planters in the main room contain lavender.