Skyrim:Thalmor Headquarters
The UESPWiki – Your source for The Elder Scrolls since 1995
This article is being developed as part of the Skyrim Houses Redesign Project. If you see this tag it means the article can still be improved. Please see the project page for guidelines.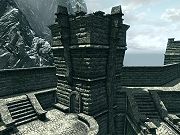 Thalmor Headquarters is located in Solitude, within the walls of Castle Dour.
Despite what the name implies, the building is bereft of Thalmor and anyone else. It appears to have been abandoned suddenly: a tactical map of Skyrim is laid out on a table on the first floor, a cooking pot is bubbling in the basement, and a tidy bedroom with potions on the shelves is found on the second floor. Cobwebs cling to the walls of every room, suggesting that it has been some time since anyone has visited.
Taking anything from this location is considered stealing.
Entering the headquarters is trespassing, therefore, you cannot wait or sleep in this location, unless you are aligned with the Legion.