Skyrim:The Apprentice Stone
The UESPWiki – Your source for The Elder Scrolls since 1995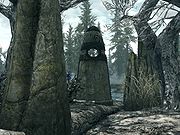 The Apprentice Stone is one of the thirteen Standing Stones scattered across Skyrim.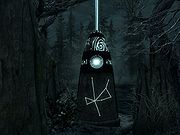 Those under the sign of The Apprentice recover Magicka faster, but are more susceptible to Magicka damage. Activating the Apprentice Stone increases magicka regeneration by 100% and increases weakness to magic by 100.
Nearby the stone you will find deathbells and swamp fungal pods, plants typical to the marshes of Hjaalmarch.
Although the loading screen tip states the Apprentice Stone doubles both magicka regeneration and magicka, only magicka regeneration is doubled.
East-southeast of the Stone, a Nordic burial pit has partially sunk into the swamp, and has been taken over by several mud crabs. A treasure chest, several burial urns, and a copy of the Lockpicking skill book The Locked Room can be found here.