Skyrim:The Arcanaeum
The UESPWiki – Your source for The Elder Scrolls since 1995
This article is being developed as part of the Skyrim Houses Redesign Project. If you see this tag it means the article can still be improved. Please see the project page for guidelines.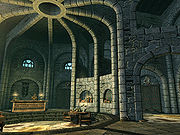 The Arcanaeum is the library located within the College of Winterhold, zealously maintained by Urag gro-Shub.
Collated over hundreds of years, the College's library contains a wealth of information, placed at the fingertips of those who require them - albeit under the ever-watchful eye of Urag. It is located on the first floor of the College, between the Hall of the Elements and the Arch-Mage's Quarters. If you choose to join the College, you may find yourself adding significantly to the collection of books available, and perhaps even be gifted with some as rewards.
[edit]
Related Quests
[edit]
Notable Books
Two copies of An Explorer's Guide to Skyrim:

In the central southeast section, on the shelf between the outer and inner rings,
On the left side of the southwest steps leading down into the inner ring.
Urag will sell you a variety of books that weren't fit to be added to the Arcanaeum's collection.
When completing the quest Alduin's Bane, you can sell the Elder Scroll to Urag for 2000 gold.
Most of the bookcases are locked and say that they can only be opened with a key. There is no in-game instance of that key. Taking books from any of the closed bookcases is considered stealing, although like all other private bookcases in Skyrim, the books can be read from the bookcase with no repercussions.
The investigator's chest, located on the wall to the northwest side, contains the rings that are needed for the gauntlet in the Midden, as part of the unmarked quest Forgotten Names.