Skyrim:The Mortar and Pestle
The UESPWiki – Your source for The Elder Scrolls since 1995
This article is being developed as part of the Skyrim Houses Redesign Project. If you see this tag it means the article can still be improved. Please see the project page for guidelines.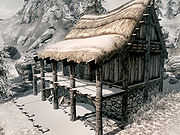 The Mortar and Pestle is the alchemy shop located in Dawnstar.
It is run by the elderly Frida who also lives above the main trading room. It consists of one area only, The Mortar and Pestle.
NOTE: Like all other stores, The Mortar and Pestle has a number of fixed wares on display scattered around the main trading room. These can be bought from the proprietor Frida and will disappear from the room when purchased. For a list of these special items, see this section.
[edit]
Residents
[edit]
Related Quests
[edit]
The Mortar and Pestle
The main trading room is dimly lit and Frida can be found behind the counter every day between 8am and 8pm. Without the displayed merchandise, a lot of beverages reveal themselves. On a set of shelves behind the counter are three bottles of alto wine and four bottles of wine along with seven bottles of nord mead. Underneath the counter are four additional bottles of wine and a single alto wine and a potion of resist shock. There is also a hidden coin purse, two sacks with food and a copy of the Conjuration skill book 2920, Hearth Fire, v9. Next to the counter sits a chest and a food barrel. Underneath the stairs leading to the second floor is an alchemy lab.
Frida sleeps in her owned bed on the second floor, where even more beverages sit on some shelves next to a food barrel in the northeastern corner: six bottles of wine and two of alto wine. A dinner table is set with two wedges of goat cheese and one of eidar cheese, with two loaves of bread on the side. There is also a chicken's egg and two bottles of alto wine. A dresser in the corner holds clothes and on its top sit a few spare ingredients, one nirnroot, one creep cluster, one deathbell and a variety of bowls with one sample of frost salts, fire salts, ectoplasm and bone meal. On the other side of the bed are a few gold coins on a table and an unlocked chest.
[edit]
Displayed Merchandise
The following items are sitting out in the store on counters, shelves, or tables. They can be purchased or taken for free if your Disposition with Frida is high enough. They respawn after ten days.
Ingredients: 3 Chaurus Eggs, 1 Ectoplasm, 2 Fire Salts, 2 Giant Lichen, 1 Glow Dust, 1 Salt Pile, 3 Snowberries, 3 Spider Egg, 1 Spriggan Sap, 3 Swamp Fungal Pod, 1 Taproot, 2 Thistle Branch, 2 Troll Fat, 2 Vampire Dust, 1 Void Salts
Poisons: 1 Weak Fear Poison, 1 Weak Frenzy Poison, 1 Weak Paralysis Poison
[edit]
Standard Merchandise
This is the merchandise found in the store's merchant chest. These items are only available if purchased from the merchant; they cannot be pickpocketed or stolen. They are restocked every two days.
The store, like Arcadia's Cauldron in Whiterun, may be locked during normal business hours and open in the middle of the night when merchant services are unavailable.