Skyrim:Velothi Mountains
The UESPWiki – Your source for The Elder Scrolls since 1995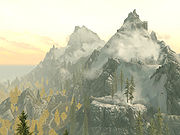 The Velothi Mountains are a mountain range that stretches along the eastern border of Skyrim.
They are the mountain range separating Morrowind from Skyrim. They are named after the Chimer prophet Veloth who led the Chimer to leave their ancestral homes and resettle in Morrowind.
In the Late Middle Merethic Era, the Velothi Mountains were settled by the Dwemer, who created cities beneath the mountain range. Presumably these cities followed the fate of their counterparts in Morrowind and Hammerfell and now lie deserted, but no further information on the cities exists.
In 2E 864, a canopy tunnel provided easy travel to the mountains from Cyrodiil, but no trace of the tunnel remained by 3E 433. Dunmeth Pass leads through the mountains and into northern Morrowind. High in the mountains lies the ancient temple of Skuldafn, along the Eastmarch border.