Skyrim:Yngvild
The UESPWiki – Your source for The Elder Scrolls since 1995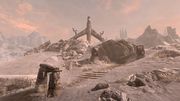 Yngvild is a cave found on an island east-northeast of Dawnstar in the far northern reaches of Skyrim. The cave has two zones: Yngvild and Yngvild Throne Room.
The four journals of Arondil the Necromancer are found in this cave. These are required for a quest given by Vekel the Man in the Thieves Guild.
[edit]
Related Quests
NOTE:
Some radiant quests have a sizeable list of possible locations. These quests are not placed on individual place pages, and are instead listed at
radiant quest locations
.
[edit]
Walkthrough
[edit] Zone 1: Yngvild
The cave contains several draugr and Yngvild ghosts, females who are most likely the victims of Arondil's "experiments", which are mentioned in his journals found while navigating through the cave.
[edit] Zone 2: Yngvild Throne Room
Arondil can be found in the secondary zone, the Yngvild Throne Room. The four journals you collect imply that Arondil was not only a necromancer, but a necrophiliac. While fighting Arondil, he may remark, "Ah, another plaything for my collection." To the right of Arondil's throne (your right as you face him, his left as he sits on the throne) is a soul gem on a pedestal which, if picked up, causes the ghost next to Arondil to attack him. The easiest way to kill him is to sneak around the right of the room to behind the gem pedestal. If you steal the gem and remain hidden, the ghost will kill him for you. The ghost in the adjacent bedroom will join in this fray (if it lasts long enough). Either ghost seems more than a match for Arondil who, during the fight, will complain bitterly about the tables being turned.
After dispatching Arondil in the throne room, a bedroom can be found behind an iron door. A ghost is sleeping in the bed. The player can attempt to talk to the spirit, but this will only result in an immediate attack. An unusual gem can be found on the desk next to the last journal. A separate passage leads to a lever-triggered gate, into a cave with three female corpses - a Nord, a Redguard, and a Breton. Beyond the corpses, you will find a locked (Master-level) door which can be opened using Arondil's Key from Arondil's body. The door leads to a shortcut back to the first area of Yngvild where you can find a locked chest.