Skyrim:Candlehearth Hall
The UESPWiki – Your source for The Elder Scrolls since 1995
This article is being developed as part of the Skyrim Houses Redesign Project. If you see this tag it means the article can still be improved. Please see the project page for guidelines.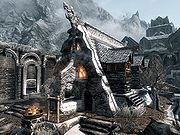 Candlehearth Hall is a large tavern in the center of Windhelm.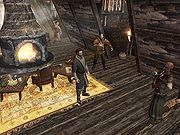 In a brief history from the tavern's owner, Elda Early-Dawn, reveals the building was originally home to a great warrior named Vundheim from the early Fourth Era. When he died in 4E 38 his son, Deroct, lit a candle above the hearth in his honor. Since that day, the candle still burns and as such the inn owes its name to this phenomenon.
It is a popular destination for many of the city's folk for beverages and the performances from the bards. Nils serves as cook, but will take over running the inn if Elda dies.
[edit]
NPCs Living Here
* This person only becomes innkeeper if Elda is dead.
[edit]
Related Quests
[edit]
Standard Merchandise
This is the merchandise found in the inn's Merchant Chest. These items are only available if purchased from the merchant; they cannot be pickpocketed or stolen. They are restocked every two days
The candle above the fireplace will spill blood when attacked as if it were an NPC.
Fighting Rolff Stone-Fist anywhere in the city makes low-level items freely available.
Outside the door to the left is an invisible door which can be opened and closed but going in is impossible. ?