Skyrim:Elgrim's Elixirs
The UESPWiki – Your source for The Elder Scrolls since 1995
This article is being developed as part of the Skyrim Houses Redesign Project. If you see this tag it means the article can still be improved. Please see the project page for guidelines.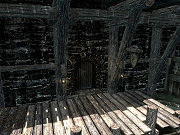 Elgrim's Elixirs is a damp alchemist's shop located on the canal in Riften. It is found on the water level of the canal near the northern watergate to Lake Honrich. The proprietor Elgrim praises its location as ideal for keeping his ingredients fresh, but his wife, Hafjorg complains that it is merely the only location he could find and afford.
Elgrim and Hafjorg both sell merchandise, although they share the same merchant chest. Ingun Black-Briar is also found in the store most of the time, because Elgrim is teaching her to be an alchemist.
[edit]
NPCs Living Here
[edit]
Related Quests
Note: This location is one of many potential targets for one or more of the radiant quests found on this page.
[edit]
Displayed Merchandise
The following items are sitting out in the store, for example on the store counters. They can be purchased from the merchant, or else can be stolen. Other items may also be present in the store, but those other items are not available for purchase.
Potions: 1 Conjurer's Elixir, 1 Deadly Fear Poison, 1 Poison, 1 Potion of Health, 1 Potion of Minor Healing, 1 Potion of Minor Magicka, 1 Potion of Plentiful Magicka, 1 Potion of Stamina, 1 Potion of Strength, 1 Weak Aversion to Fire, 1 Weak Aversion to Frost, 1 Weak Aversion to Magic, 1 Weak Aversion to Shock, 1 Weak Paralysis Poison, 2 Weak Poison
Food: 2 Gourd
Ingredients: 4 Bone Meal, 1 Charred Skeever Hide, 4 Chaurus Eggs, 1 Elves Ear, 2 Frost Mirriam, 2 Garlic, 2 Hagraven Claw, 1 Hagraven Feathers, 2 Lavender, 2 Purple Mountain Flower, 1 Salt Pile, 1 Slaughterfish Egg, 3 Snowberries, 2 Swamp Fungal Pod, 1 Tundra Cotton, 1 Void Salts
[edit]
Standard Merchandise
This is the merchandise found in the store's merchant chest. These items are only available if purchased from the merchant; they cannot be pickpocketed or stolen. They are restocked every two days.
Completing Ingun's quest, Few and Far Between, provides you with a key to Ingun's Alchemy Chest, found in the back of the store. It also allows you to freely take the contents of several barrels in the store.
Even if you complete Truth Ore Consequences, taking any of the other items in the store is still considered stealing. In particular, you are unable to freely take any of the alchemy ingredients sitting on the store's shelves and counters. These are available after also investing in the store, however.
There is a "Loot" shadowmark to the left of the entrance door. There are several alchemical ingredients, potions, and poisons found around the store.
The store is always open for business, even in the middle of the night, and even if the merchants are sleeping. Simply engage conversation with the merchant and you will always be able to trade with them.