Skyrim:Hofgrir Horse-Crusher
The UESPWiki – Your source for The Elder Scrolls since 1995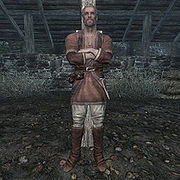 Hofgrir Horse-Crusher is a Nord warrior and the owner of the Riften Stables.
Hofgrir wears a set of merchant clothes and a pair of boots. He is equipped with a leveled dagger which can be up to Elven quality. He carries a key to the stables, and a selection of common loot and gold.
He gained his name following an incident in his youth, during which he got drunk and managed to break a young horse's back after trying to mount the poor thing. Perhaps realizing that musclebound Nords and horses don't mix, he hasn't ridden since.
[edit]
Related Quests
If you accept to brawl him, but don't have the 200 gold to match him, the quest will break. Asking for a rematch makes him imply that you don't have enough gold to cover the bet regardless of what amount you are carrying. ?
It can also break even if you have enough gold, causing you to enter "brawling" mode (unarmed and fists up), but he just walks away. Attacking is considered a crime and will earn you a bounty. Asking for a rematch returns the same issue as above. ?