Skyrim:Illia
The UESPWiki – Your source for The Elder Scrolls since 1995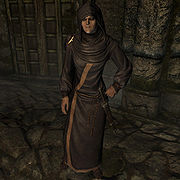 Illia is an Imperial elemental mage who lives in the Darklight Tower along with her mother, witches, and hagravens. Her mother plans to become a hagraven, but she needs a human sacrifice for this. Illia wants to stop her mother by killing her.
Upon arriving in the tower, you witness Illia killing a witch. She explains the situation about her mother and asks you if you can help her. If you agree, the quest Repentance is started. After completing the quest, you can ask her to become your follower. She will return to the tower when you dismiss her.
She is a very powerful mage and favors frost spells. She wears blue mage robes and a pair of boots. She also carries a key, which opens a door inside the tower containing a few barrels with fruit and a cupboard with some potions standing on it. She is equipped with a leveled dagger, which can be up to glass quality.
[edit]
Leveled List
| | | | | | |
| --- | --- | --- | --- | --- | --- |
| Player Level | 1-18 | 19-26 | 27-35 | 36-45 | 46+ |
| NPC Level | 7 | 14 | 21 | 30 | 40 |
[edit]
Related Quests
If Illia is dismissed or replaced as your follower (i.e. by the companion quests), she can usually be found again in the entrance to Darklight Tower. If she isn't at Darklight Tower, go north towards Windhelm using the pathway there. Turn left when the dirt road turns into stone trails. If she is not there travel to where you dismissed her and deactivate all quests, then set a waypoint to Darklight Tower and use Clairvoyance to follow the path she would be taking.
Illia favors Frost spells. This can be particularly devastating in combat to both enemies and the player, as she frequently uses slow moving AoE Frost spells after about level 20. Players specializing in melee should be particularly careful with her as a follower.
If she is dismissed for any reason, even automatically because of a quest follower taking over, she enters a state in which she will no longer be a follower and keeps all the equipment given to her.