Skyrim:Lost Echo Cave
The UESPWiki – Your source for The Elder Scrolls since 1995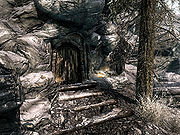 Lost Echo Cave is a Falmer-infested cave near the northwestern coast of Haafingar.
At first sight the cave seems to consist of just two rooms. The second room includes a copy of the One-handed skill book 2920, Morning Star, v1. There is also a ceremonial brazier which can be activated by burning a glowing mushroom in it. This opens up a hidden door. The mushrooms can be found growing on the cave walls.
Further exploration reveal a few Falmer and chaurus. Chaurus eggs are readily available from the many egg sacs scattered around. The body of an Imperial and a bandit can be found in one of the Falmer tents. The end of the cave has a handle which activates yet another hidden door, leading back to the main area. There is also a quicksilver ore vein located to the right of the Falmer hut.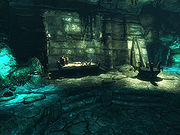 [edit]
Related Quests
Note: This location is one of many potential targets for one or more of the radiant quests found on this page.
Although Lost Echo Cave is physically located within the borders of Haafingar hold, in the game data this cave is identified as being within Falkreath Hold. This means that you may be sent here as part of Falkreath quests, but not as part of Haafingar quests.