Skyrim:Marise Aravel
The UESPWiki – Your source for The Elder Scrolls since 1995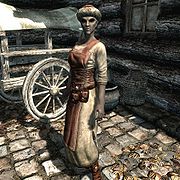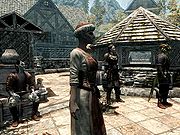 Marise Aravel is a Dunmer food vendor selling her produce in Riften's market. She learned a trick from a butcher in Elinhir (a small town just over the border in Hammerfell) to keep food fresh and free of rockjoint by using ground ice wraith teeth as a preservative. She suggests going to Ancient's Ascent to obtain the teeth but warns you of the danger involved: "Well, I'd be careful if I were you. I hear the Nords hunt them for some kind of initiation rite and not all of them end up victorious. The last traveler that traded me some said he found them at a place called Ancient's Ascent. Careful though, rumor has it a dragon makes its home there." She will reward you with a leveled spell tome and five pheasant breasts if you acquire five of these teeth for her.
Marise wears a set of merchant clothes, a pair of boots, and a hat. She is equipped with a leveled dagger which can be up to elven quality. She carries a key to her house, and a selection of common loot and gold.
[edit]
Related Quests
[edit]
Standard Merchandise
This is the merchandise found in Marise's merchant chest. These items are only available if purchased from the merchant; they cannot be pickpocketed or stolen. They are restocked every two days.
She is supposed to sleep in her house from 11pm to 5am, but doesn't, as the only bed there is owned by Madesi.
She may be killed by another NPC while you're in Riften. Nobody will react to the fight, not even the guards.