Skyrim:Mzulft
The UESPWiki – Your source for The Elder Scrolls since 1995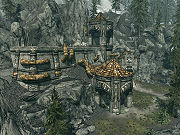 Mzulft is an extensive Dwarven ruin sited south-southeast of Windhelm, along the main road between Windhelm and Riften, and just southeast of Kynesgrove. Access to virtually all of the ruin is blocked by a locked door until you begin the quest Revealing the Unseen.
Mzulft contains a multitude of Dwemer metal items, which can be smelted into Dwarven metal ingots or sold directly—they are relatively high-valued. You can in Mzulft collect the ten Dwarven Cogs needed to complete the quest Arniel's Endeavor.
There are three moonstone ore veins in the first zone, three in the second zone, and the seventh vein is found in the final zone. Two Dwemer Convectors can be found in the ruins: one inside the main ruins, and another in the Dwarven Storeroom.
[edit]
Dwarven Storeroom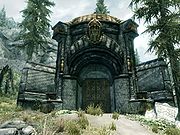 The Dwarven Storeroom is a separate building just south of the main entrance. The storeroom contains no enemies, but does contain a Dwemer Convector (needed for the third part of Arniel's Endeavor) and a large amount of Dwemer scrap and other Dwemer items (pans, bowls, etc).
To the right as you enter the main chamber there is an apprentice-locked door leading to a room containing two chests, 18 Dwarven metal ingots, and more Dwemer clutter and scrap. Looking straight ahead in the main chamber, there is an expert-locked gate leading to a room containing a random enchanted Dwarven axe lying on a shelf, several more Dwarven metal ingots, and more Dwemer clutter and scrap. To the right as you enter this room is an apprentice-locked door leading to the room with the two chests.
An Aetherium Shard can be found here for the Dawnguard quest Lost to the AgesDG.
Noteworthy items include:
[edit]
Related Quests
A copy of the Alteration skill book The Lunar Lorkhan can be found on a table next to a skeleton behind a locked door in the boilery.
A chest on the roof of the main building can be reached by jumping up the hill to its northeast.
Mzulft has the highest yield of possible Dwarven metal ingots in one place, having a possible total of 472.