Skyrim:Rift Stormcloak Camp
The UESPWiki – Your source for The Elder Scrolls since 1995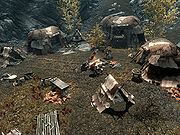 Rift Stormcloak Camp is a Stormcloak camp in the Rift, located just northeast of Sarethi Farm and south of Darkwater Crossing.
There are Stormcloak soldiers camped here. They won't be hostile if you are not aligned with the Imperial Legion. The quartermaster buys and sells weapons, armor and ingots. Their commander is Gonnar Oath-Giver.
There is only one path leading up to the camp, at the top of the path is a small tent. On the left of the tent is a table with some weapons on it which are owned by the quartermaster. Nearby is a workbench and a wood chopping block. Next to the woodchopping block is another small tent, and a large one with a chest, an end table and a bed roll that the commander sleeps in. Next to that is another small tent, and another large tent with a tactical map of Skyrim in it. Next to that is another large tent holding wounded soldiers and a chest. A leveled potion of fortify health and a leveled potion of restore health can be found on a small table in there. Outside the tent is an alchemy lab. In the middle of the camp is a fire with a cooking pot over it and a grindstone nearby.
[edit]
Related Quests