Skyrim:Ugor
The UESPWiki – Your source for The Elder Scrolls since 1995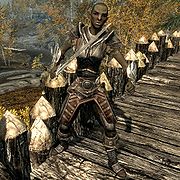 Ugor is an Orc ranger found in Largashbur, the Orc stronghold of the Rift. She is likely first encountered with a group of other Orc warriors in combat with a giant outside the locked gate of Largashbur. Helping defeat the giant is recommended, as it will lead to a scripted argument between herself and Atub that would unlock the gate and start the related quest:
Ugor: (addressing the player) "Halt! You have no business here, outsider. Leave at once."
Atub: "Ugor, no! This may be the one we need."
Ugor: "We need nothing from outsiders! Yamarz will provide for us."
Atub: "We cannot carry on this way! You know we are doomed if we do not do something!"
Ugor: "Yamarz charged me with keeping outsiders away from Largashbur. You would have me disobey him?"
Atub: "You were charged with keeping us inside the walls. Have faith, Ugor. I only wish the best for our tribe."
Ugor: "Fine, it's your neck."
If Ugor still lives after lifting Malacath's curse, she would join as a follower should you ask.
[edit]
Related Quests
Although her default gear is governed by the Heavy Armor skill, Ugor is actually more proficient in Light Armor.
Ugor has a lower minimum level than the other Orcs here.
It is possible to find the corpses of Ugor and the other unnamed Orcs, unable to start the event that would unlock the gate, leaving you to find another way to enter Largashbur to talk to Atub. ?