Skyrim:Alexia Vici
The UESPWiki – Your source for The Elder Scrolls since 1995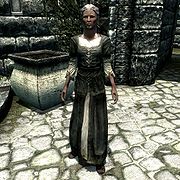 Alexia Vici is an elderly Imperial citizen. She is only present during the wedding of her daughter, Vittoria Vici, during the quest Bound Until Death. She is also the aunt of Emperor Titus Mede II.
Alexia Vici wears a set of farm clothes along with a pair of boots.
If you ask her if she is having a good time during the wedding, she responds: "I most certainly am not. I've just lost my daughter to a Nord beast, and my nephew Titus is too busy playing Emperor to even show up."
[edit]
Related Quests
[edit]
Quotes
"My nephew, the Emperor. Too busy to attend the wedding of his beloved cousin. We won't stand for this slight, I assure you."
"What my daughter sees in that... barbarian, I'll never know."
"The thought of paying a dowry to that, that... Stormcloak turns my stomach."
"My daughter! Dead! Noooooo!"