Skyrim:Aranea Ienith
The UESPWiki – Your source for The Elder Scrolls since 1995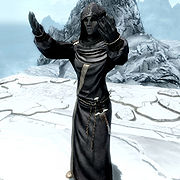 Aranea Ienith is a Dunmer elemental mage and a worshipper of Azura. She can be found at the Shrine of Azura and will task you with finding Nelacar, who she says holds the power of the stars. According to Aranea, Azura led her people out of Vvardenfell to safety. If you choose to return Azura's Star to the shrine rather than give it to Nelacar, she will become a potential follower after completion of the quest. If you cleanse it with the help of Nelacar, turning it into The Black Star, she will threaten to kill you for defiling a Daedric artifact.
She is a very powerful mage wearing blue mage robes and boots when you meet her. She carries an iron dagger and a staff of frostbite.
In addition, she can be recruited to join the Blades at Sky Haven Temple.
[edit]
Related Quests
[edit]
Spells
She is able to cast the following spells: