Skyrim:Bilegulch Mine
The UESPWiki – Your source for The Elder Scrolls since 1995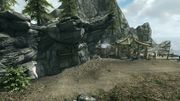 Bilegulch Mine is an orichalcum mine situated south of the town of Rorikstead and directly east of Lost Valley Redoubt. It is located in the area where the Reach, Whiterun Hold, and Falkreath Hold meet near Fort Sungard.
The mine is held by Orc bandits. The mining camp is barricaded and dotted with a few Orcish-styled outbuildings, including a blacksmithing area requisite with a smelter and forge. The entrance to the mine is up the wooden scaffolding. Inside the mine are nine orichalcum ore veins, a copy of the Smithing skill book The Armorer's Challenge, and a locked chest filled with leveled loot, the key to which is held by the bandit chief.
[edit]
Orichalcum Ore Locations
Six ores can be found in a cart outside the mine entrance.
Two ore veins can be found in the first room; one is on the wall on the way to the kitchen, and the other is on the far wall, next to a pickaxe.
Seven ore veins can be found in the second room; six are along the walls and floor, and one is on the ceiling.
[edit]
Related Quests
NOTE:
Some radiant quests have a sizeable list of possible locations. These quests are not placed on individual place pages, and are instead listed at
radiant quest locations
.