Skyrim:Sunderstone Gorge
The UESPWiki – Your source for The Elder Scrolls since 1995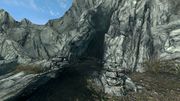 Sunderstone Gorge is a heavily trapped narrow cave system inhabited by warlocks, located west of Bloated Man's Grotto. It contains several varieties of fire traps and a word wall which teaches part of the Fire Breath shout. An unusual gem is located on the large stone bier in front of the word wall.
[edit]
Related Quests
[edit]
Ore Locations
Just as you enter the tunnels where the rain begins to fall, there's a flame spout trap trigger on the floor and a silver ore vein on the ground next to it.
There are three silver ore veins in the side passage where rain falls into the gorge, near the drop-exit passage.
A potion and coin purse can be found on a small ledge just behind the swinging mammoth skull trap.
A copy of the Conjuration skill book 2920, Frostfall, v10 is found in the room with the word wall.
A human heart can be found inside a cast iron pot on the bookshelf next to the alchemy lab after the word wall.
It is possible to pass most of the dungeon without having to go through it. After the fire trap, there is a hallway with a skeever and a wall, and you can jump on the urn up the wall, activate the alchemy lab through the bars, blink in, activate the chain behind and on the right of the other bars, and out to the end of the cave where the word wall is located.
This place is referred to as "Greywater Gorge" in game letters and your quest journal.
When you get to the word wall you may encounter a bug where the word absorbs as normal but doesn't appear in the shout menu and you cannot unlock it. This appears to be permanent. ?