Skyrim:Briehl
The UESPWiki – Your source for The Elder Scrolls since 1995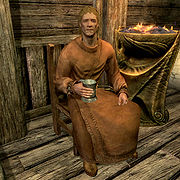 Briehl is a Nord priest at the Temple of Mara in Riften. You may question which of the Eight Divines he serves, to which he will answer, "This temple is dedicated to Mara, and the light of love she shines on us all. I'm only a humble acolyte, though. If you wish to avail yourself of Mara's blessing, you should speak with Dinya Balu or Maramal." He may also add, "They should be back shortly. You're welcome to wait here if you like."
He wears monk robes and boots.
If you drop a piece of armor near Briehl and he then asks if he can have the armor. If you let him have it he may not talk to you anymore. ?

If you refuse to give him the armor this will not occur.