Skyrim:Dragontooth Crater
The UESPWiki – Your source for The Elder Scrolls since 1995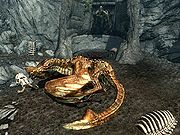 Dragontooth Crater is a word wall that contains a word for the Elemental Fury shout, located due north of Karthwasten.
Dragontooth Crater can be approached from the north and the west. Starting from Karthwasten, you must navigate east around the mountain and approach from the north. From the Shrine to Peryite, you must navigate west around the mountain and approach from the west. Along the path in front of the tower can be found a charred corpse and the corpse of an Imperial soldier. A dragon lies in front of the wall near some bloodstains, instead of resting upon it like most dragons. The wall has a Forsworn shrine attached on it, and a loot chest sits just inside the semicircle of the wall.
The tower to the north has three floors. The first floor contains another burnt corpse in the doorway, a dead bandit on the floor, and a leveled potion and dagger between some rubble. The second floor contains a leveled locked chest, and the third floor has a leveled potion.
[edit]
Before the Dragons
Before the dragons' return, the wall is occupied by Forsworn and a hagraven. There are three tents with two hay piles for sleeping, an arcane enchanter in front of the wall, a campfire in the middle of the camp, and a gruesome table with the remains of two people spread upon it between the fire and the enchanter. Around the camp there are up to four leveled Forsworn standing on lookout, warming themselves by the fire or sleeping, and a hagraven can be seen using the arcane enchanter in front of the wall. On the enchanter is a soul gem, under it is a Forsworn headdress, behind it is a dead hunter, and the boss chest is against the wall. In the tower to the north there is a dead bandit, and on the table under the shrine there are two potions, a human heart, and a leveled dagger, all on the first floor. Also found are a locked chest on the second floor and a potion on the top floor.
[edit]
Related Quests
NOTE:
Some radiant quests have a sizeable list of possible locations. These quests are not placed on individual place pages, and are instead listed at
radiant quest locations
.
In the rocks by the T-junction at the beginning of the path to the lair is an iron ore vein.
The dragon located in this area sometimes has half of its body stuck in the ground. This may happen when the player successfully sneaks up and touches the back of the dragon. It will try to face towards the player and clip through the ground. In this state, the dragon will not attack or fly, and it cannot be killed.