Skyrim:Eastmarch Imperial Camp
The UESPWiki – Your source for The Elder Scrolls since 1995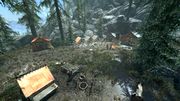 Eastmarch Imperial Camp is a small Imperial camp in the hills of Eastmarch, southeast of Windhelm.
The camp is populated by a commander—normally Legate Hrollod—a number of soldiers, and an Imperial quartermaster. Legate Rikke assumes command of the camp during The Battle for Fort Amol, and until the Battle for Windhelm is initiated.
If not a member of the Imperial Legion, you may be attacked by the soldiers if you remain after receiving warnings to leave. Two horses can be found here, but mounting them is considered stealing.
A workbench, a grindstone and an anvil can be found next to the quartermaster's small wares tent. There is an alchemy lab next to a tent housing wounded soldiers, and there are leveled health potions inside the tent. The Legate's larger tent contains a chest. Next to the Legate's tent is another large tent containing a map of Skyrim with strategical markers placed on it.
[edit]
Related Quests
After receiving orders for the Battle for Windhelm, the military will strike the camp and it will be removed.
If you travel to the site after the camp is struck, NPCs may remain, and objects may be found seemingly floating in midair. ?