Skyrim:Haemar's Shame
The UESPWiki – Your source for The Elder Scrolls since 1995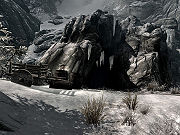 Haemar's Shame is a cavern that is home to vampiric worshippers of Clavicus Vile. It consists of two zones: Haemar's Cavern and Haemar's Shame.
[edit]
Related Quests
[edit]
Walkthrough
[edit] Zone 1: Haemar's Cavern
In the first furnished area you will find an alchemy lab and, in the makeshift storeroom, a Potion of Ultimate Magicka. The Destruction skill book Response to Bero's Speech is on a desk, off to the side partway down the ramps just before Haemar's Shame.
[edit] Zone 2: Haemar's Shame
Just inside the entrance is a frostbite spider. An arcane enchanter can be found in the first room with the cages. This part of the cave is most notable for being the location of the Shrine of Clavicus Vile, and includes a boss level vampire. At the base of Clavicus' shrine lies one of the dead Imperials, suggesting some sort of sacrifice happened. There is also a sneaky back entrance, but there is a gate blocking the way until you have cleared it through the front.
Possible crash if player had already completed A Daedra's Best Friend