Skyrim:Nilsine Shatter-Shield
The UESPWiki – Your source for The Elder Scrolls since 1995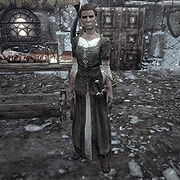 Nilsine Shatter-Shield is a Nord citizen living in Windhelm. Her mother is Tova Shatter-Shield, and her father, Torbjorn Shatter-Shield. She also had a twin sister, Friga Shatter-Shield, who was recently murdered by "The Butcher".
You can choose to kill her for Muiri during the related quest for an extra reward.
She may ask you, "I lost my twin sister a while back. Have you ever lost anyone close?" She will sadly tell you, "My father says we need to just get on with our lives. Like it's that easy."
During the quest, Mourning Never Comes, you can have the following conversation with her:
| Topic | Dialogue |
| --- | --- |
| "Muiri sent me. She is quite unhappy..." | "Muiri? I can't believe my family trusted that backstabbing little strumpet. You tell her she's dead to us. You hear me? Dead!" |
| "Do you hear that? It's the sound of your sister, screaming in the Void..." | "What kind of cruel, horrible person are you? My sister was murdered. Do you have any idea what that's like? What I'm going through?" |
| (Remain Silent) | "You just going to stand there, gawking? Go away. You're starting to... frighten me." |
All options will cause her to walk away.
[edit]
Related Quests